Happy ALMOST Friday ! For me, it means my fall break is almost over, but it also means, it's time for the weekend!! woo hoo!
As most of you know, I absolutely love "funnies" or all these quotes/sayings/pictures you see on Pinterest or the internet. I am a big fan of sarcasm so these little puppies literally make me laugh out loud. I'm linking up with
Learning 4 Keeps
for her "If You Can't Be Deep . . . Be Funny" Linky.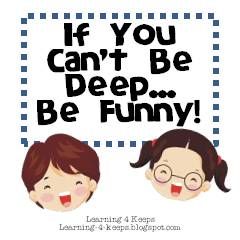 The rules are : Pick your favorite funnies, post them on your blog, link back to Learning 4 Keeps, read along and laugh!! Oh, and you can start voting on your favorites starting Monday & the winner will receive $10 of stuff from her TpT store. Good times! :)
The theme this week is "That's so Me!", so I had to jump in & link up!
As most of you know, I'm not a runner & this is why!
Seriously! And when you print the directions, you end up with that first page you don't really need.
Every time! And, you always think it's on you . . . or maybe that's just me. Paranoid much?
Again, maybe I'm a wee bit paranoid! haha
This one makes me laugh out loud because I've so done it . . . a lot ! Call me "grace" or just coordination challenged.
Wouldn't that be the best?! Ahhh . . . . naps!
Be sure to hop over & link up ! I can't wait to read them all :)
Also, don't forget about my 200 Follower Giveaway - 1st winner gets a $25 TpT gift certificate & the 2nd winner gets some awesome Halloween & Fall Books. Giveaway ends Sunday morning . . . or Saturday "night" if you're like me! Good luck :)
a Rafflecopter giveaway